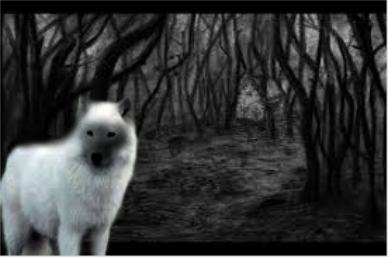 General
⇢Name; Bain
⇢Nickname(s); Call him whatever
⇢Age; 2 1/2 years
⇢Gender; Male
⇢Rank Desired; Healer
Appearance
⇢Species; Tundra Wolf
⇢Coat Color; Mostly white with a black mask, ears, and socks.
⇢Eye Color; Blue
⇢Height; 34 in.
⇢Weight; 130 pounds.
⇢Build; Large with powerfull muscles, much like his father
⇢Markings; Like I said he has a black mask and socks.
⇢Scars; He doesn't have many visible scars exept for the one that runs down his shoulder.
⇢Other; N/A
Background
⇢Personality; Being blind, Bain is very timid and will lash out at anything that threatens him. He has never had the ability to wait for the oponent to move first so he often does. He was trained as a warrior so he is great at fighting, it would be even more so if he could see. Even though he was trained as a warrior for most of his life, he has a vast knoledge of herbs. He was trained as a healer for the rest of his time in the last pack he was in.
⇢Family; Bain didn't see his old pack, and was the only pup in the litter, his mother and father are presumed dead
⇢History; Bain was born blind, the only male in the litter. He was the alpha's son. His father had refused to believe that his only son was blind and trained him to be a warrior. He went to extremes to teach him how to use his other scences and always tried to shut out the fact that Bain was blind. Once his father even forgot and in a training session and tackled him, leaving the gash on his shoulder. When a battle came, his father guided Bain to the battle grounds. Bain heard his pack being torn apart, and when he heard a visious growl he turned around, he couldn't tell where the attacker was. A few heart beats later Bain was pinned to the ground, his blue eyes darting around in fear, Bain heard a voice..."Look and face your attacker you pitiful excuse for a wolf.." Bain looked at his attacker, then bit off it's ear, before running and being cornered, his father saved him, but was killed in the process. Bain raced off and found another pack, he was trained as a healer, that pack's territory was burned in a wildfire while Bain was out looking for herbs. He decided to be a loner on that day, but got tired of that life, he now wishes to join this pack.
⇢Strengths; He's decent at fighting, but is better at healing
⇢Weakness; Very aggresive if any agresion is shone torwards him. And his Blindness makes him dependant on others most of the time.
⇢Likes; He likes to be solitary and sit my a river listining to he flow.
⇢Dislikes; Aggressive wolves, being tricked because of his Blindness
⇢Habits; Wandering aimlessly when thinking
⇢Song;
About You
⇢Sponsor; Was invited by Diamond
⇢Average Attendance [1-10]; 7-8
⇢
Password;